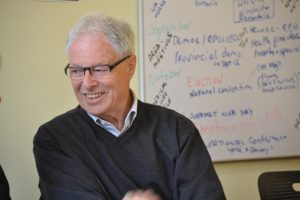 It's quite ironic that the CHPI is starting work just as the Coalition's Health and Social Care Act 2012 comes into operation. It would be far too much to say that if the CHPI had come into existence 15 years ago we might not now be witnessing the transformation of the NHS into a market in which independent corporations (foundation trusts) compete for business with private companies. But it could surely have asked some awkward questions.
It's also true that public policy seldom rests solely on evidence or even on public opinion. But evidence and public opinion should not have been as relentlessly excluded from the health policy-making process as they have been over the past fifteen years. Dozens of well-funded lobbyists, think-tanks financed from undisclosed private sources, and management consultancies with world-wide corporate clienteles have had unprecedented access to the heart of health policy-making, while no organised independent voice has consistently represented the public interest there.
The aim of the CHPI is to change this situation. There is a large pool of health policy expertise among medical professionals, academic policy researchers, healthcare managers and others that needs to be brought into the policy debate. Many researchers doing valuable work for the Department of Health have knowledge and experience going well beyond the specific research remits they are given. That needs to be brought to bear on wider issues as well. The CHPI hopes to act as a conduit for all this expertise, to give it some organisational clout and ensure that it gets listened to.
A major concern of the CHPI will be to challenge the prevailing assumption that market competition works best in health care. The weight of both theory and evidence is against this, and both have been disregarded for too long. A second major concern will be to shift the debate from an almost exclusive focus on care for people who are ill to one that also includes the social and economic determinants of illness. A third will be to bring social care into the picture, so that the public interest is properly foregrounded in the emerging debate about how to integrate health care with social care.
A fourth and fundamental aim is to push for genuine openness and integrity in both making and implementing health policy. Regulations that will force CCGs to put services out to competitive tender, and to award contracts to the lowest bidders even when they know that lower bids mean lower-quality services; gagging clauses written into CCG constitutions that will prevent GPs from telling their patients things that some of their colleagues want concealed; conflicts between the duties CCG board members have to patients and their own commercial interests; hospital performance standards laid down without even a semblance of input from hospital staff; the list of problems due to lack of openness and democratic accountability is painfully long. The CHPI will do all it can to see 'transparency' replaced by genuine openness, and 'consultation' replaced by democratic accountability.
It has been a hard slog to get to the point where the CHPI can go public and start to try making an impact. What has made it possible, and exciting, has been the support of a very wide range of people, and the discovery that collaboration across disciplines and professions has the potential to generate a powerful alternative voice to those that have dominated health policy for so long. CHPI's links with other public-interest organisations are already strong. Its focus will be down-to-earth and evidence-based. It hopes to secure input and support from all those interested in ensuring that the public interest is reinstated as the true guiding principle of health policy.
Topics