The Centre for Health and the Public Interest (CHPI) was founded in 2012 after it became clear that a growing democratic deficit had emerged in the way decisions about health and social care policy were being made.
Policy making had become opaque and centralised, with an increasing number of inappropriate conflicts of interest being tolerated. The need for an independent public-interest think-tank on health and social care policy was brought into sharp focus when the Health and Social Care Bill was introduced in 2011 to dismantle many of the founding principles of the NHS, including the constitutional duty of the Secretary of State for Health to provide healthcare for all.
The NHS and social care sector have been subjected to funding cuts, privatisations and a series of top-down reorganisations that have harmed the efficiency and effectiveness of the system, demoralised NHS staff and worsened the experience of care for patients and their families.
No other evidence-based and independent research body currently exists to present a critical view of the far-reaching and ongoing changes imposed upon the NHS since 2012.
The aim of the Centre is to subject current policy to careful, evidence-based critical scrutiny; explore alternative solutions to the challenges of providing universal high quality health and social care; promote greater democratic determination and accountability in the organisation and delivery of health and social care; and advocate for probity, integrity and transparency in health policy-making.
Read our latest report showing the impact that CHPI has had on the policy landscape in the last five years.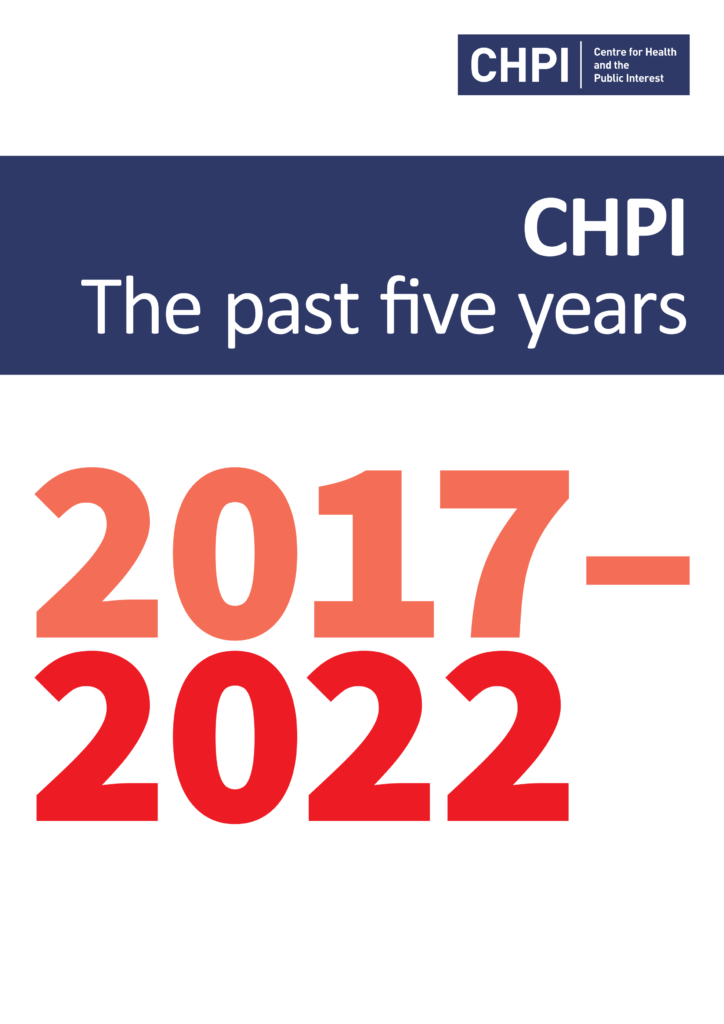 What we do and how we work
The Centre for Health and the Public Interest mainly conducts research and analysis. We also seek to influence policy by presenting our work to government, the Department of Health, MPs in Parliament, the Health Select Committee, the Public Accounts Committee, the Care Quality Commission and other relevant bodies. We take care to make our work accessible and useful for the general public as well.
Our research is currently undertaken by the director, David Rowland, and our Researcher, Sid Ryan, with occasional contributions from individual trustees and outside experts.
Contributors have included: Andrew Azorsky, Arianne Shahvisi, Ben Kasstan, Professor Calum Paton, Professor Danny Dorling, Dominic Harrison, Dr Aislinn Macklin-Doherty, Dr Aseem Malhotra, Dr Carine Vassy, Dr Catherine Needham, Dr David Bell, Dr Gurjinder Singh Sandhu, Dr Hilary Pickles, Dr Jacky Davis, Dr Jenny Vaughan, Dr Jock Mackenzie, Dr Jonathan Sleath, Dr Lorcan Sheppard, Dr Mark Hellowell, Dr Martin Tunley, Dr Nadia Masood, Professor Nicholas Ryder, Dr Roger Kline, Dr Sarah Walpole, Dr Teodor Mladenov, Dr Thomas Mills, Elizabeth Cotton, Ellen Stewart, Holly Jarman, Professor Ian Greener, Jens Foell, Jonathan Kennedy, Justine Schneider, Dr Kat Smith, Prof Kate Kenny, Dr Kaveri Qureshi, Laurence Vick, Lucinda Hiam, Dr Martin Blanchard, Martin Young, Michal Shimonovich, Miles Little, Nasar Meer, Professor David J Hunter, Professor John Mohan
Funding
We accept funding only from independent organisations and individuals. We do not accept funding from any private organisation which has a financial interest in the provision of health or social care services.
We rely on funding from charitable bodies and are constantly working to expand our crucially important base of individual donors. We gratefully acknowledge the grants for our work which have come from the following organisations: The Barry Amiel and Norman Melburn Trust, The BetterWorld Trust, Doctors for the NHS, The Lipman-Miliband Trust, The Marmot Charitable Trust, and The Scurrah Wainright Charitable Trust.
Transparency
CHPI is committed to financial transparency in the way it operates and has a policy of disclosing all donations over £2.5k in our Annual Report as filed at Companies House.
The following table provides details of donations an contracts over £2,500 and the project funded for the most recent financial year filed, to 31st March 2020:
| Donor | Total Amount | Project |
| --- | --- | --- |
| Transparency International – UK | £30,000 | Research on conflicts of interest in the NHS |
| Unison | £15,000 | Research on UK care home sector finances |
| The Tinsley Foundation | £12,500 | Core costs |
| David Owen | £5,000 | Core costs |
| Colin Leys | £3,000 | Core costs |
| David McCoy | £3,000 | Core costs |
| Susan Richards | £3,000 | Core costs |
In 2018, thinktank financial transparency initiative Transparify awarded us their top 5-star rating.
Governance and management
The CHPI is a registered charity governed by a Board of Trustees.
The Executive Director of the CHPI is responsible for proposing and implementing the Centre's research and funding strategies, and meets monthly with the trustees to discuss progress, together with members of the research team as needed.
The Centre's financial position and fundraising plans are reviewed quarterly.
Supporters
A highly valued group of distinguished people has backed the CHPI since its foundation in 2012: Professor John Ashton, Professor Sir Mansel Aylward, Sir Kenneth Calman, Professor Simon Capewell, Professor David Colquhoun, Professor Colin Crouch, Professor Danny Dorling, Dame Karen Dunnell, Dr Clare Gerada, Dr Richard Horton, Baroness Helena Kennedy, Professor Baroness Ruth Lister, Professor David Marquand, Professor Martin McKee, Professor Dai Smith, and Professor Alan Walker.
We currently are grateful to have two distinguished Patrons involved in the work of CHPI.
CHPI is grateful for the receipt of accounting software and support from Accounts & Legal.