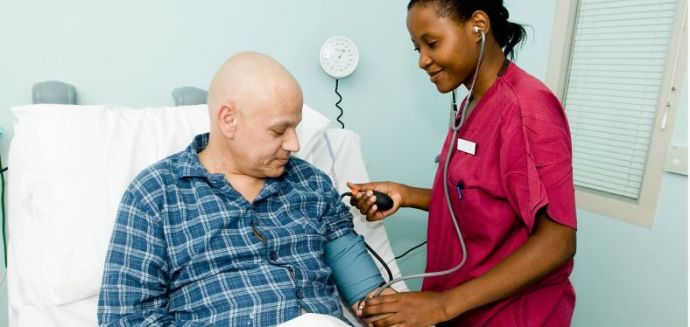 Seventy years ago this month the NHS was founded with the promise that its care would be free at the point of delivery, and patients would be treated solely on the basis of need. Over the last few decades both principles have been progressively violated as the government has sought to charge those who are not "ordinarily resident" in the UK for their care, even though the administrative cost of charging patients very likely outweighs the negligible sums lost through health tourism, and immigrants are net contributors to the UK economy.((Charging migrants for healthcare too costly say doctors leaders – BMA; 26 February 2018))((What do we know about the impact of immigration on the NHS? – The King's Fund))((The Fiscal Impact of Immigration in the UK – The Migration Observatory, University of Oxford; 30 May 2018))
Political decisions are often more ideological than rational, so these considerations notwithstanding, the 2014 Immigration Act restricted access to free NHS secondary and tertiary care to those who have been resident in the UK for five years, introducing a levy for visa holders of £200 each year, and charging other "visitors" (including all irregular migrants) for all secondary and tertiary care. In 2017, up-front charges were introduced, requiring health-workers to obtain payment before proceeding with hospital care.((Upfront charging of overseas visitors using the NHS is a threat to everyone, argue experts – The BMJ))
One upshot of this new raft of policies was Londoner Albert Thompson being asked to pay £54, 000 for prostate cancer treatment when his immigration status was called into question.((Windrush scandal: Albert Thompson gets cancer treatment date – The Guardian; 24 April 2018)) Thompson migrated to the UK from Jamaica as a teenager in 1973 to join his mother, a Windrush generation nurse who had been invited to come to the UK to help plug a major gap in the workforce of the newly-founded NHS. While his right to free care has now been secured, withholding life-saving radiotherapy has resulted in a shameful six-month delay. Others are deterred from seeking NHS care altogether, suspicious of the alliance between the NHS and immigration services: a third of vulnerable immigrants have avoided seeking timely medical care as result of these fears.((Pregnant and ill migrants going without medical care as Government intensifies NHS immigration policy – The Independent; 23 October 2017)) They have good reason to be worried: over the last couple of years, the NHS was compelled to share the details of thousands of patients with the Home Office as part of an immigration crackdown.((How trustworthy is NHS Digital? CHPI; 6 March 2017)) Health workers have protested at being coerced into becoming part of the apparatus of state border control.
The shortage of NHS workers which prompted Albert Thompson's mother to migrate to the UK remains an ongoing challenge to the viability of the service. There are currently 40,000 nursing vacancies, a staffing crisis which was exacerbated by the exodus of nurses following the Brexit referendum.((Almost 10,000 EU health workers have quit NHS since Brexit vote – The Guardian; 21 September 2017)) In April this year, the government announced a new scheme which will invite over five thousand Jamaican nurses and midwives to work in the NHS,((Government announces Jamaican nurse recruitment partnership amid Windrush scandal – The Independent; 23 April 2018)) following a similar scheme last year directed at workers from India and the Philippines.((NHS to hire more than 5,000 nurses from India and the Philippines – The Telegraph; 28 November 2017)) Similarly, the UK intends to recruit 3,000 GPs from abroad to address the primary care workforce crisis.((NHS to spend £100m bringing in up to 3,000 GPs from abroad – The Guardian; 31 August 2017)) These efforts are compromised by the government's stringent cap on skilled migrants((UK hits visa cap on skilled workers for third month in row – The Guardian; 18 February 2018)) — yet another measure motivated by anti-immigrant ideology.
Our health service may be "national" in terms of who it serves, but it has always been internationally staffed. More than a third of visas for skilled workers are assigned to NHS workers.((UK hits visa cap on skilled workers for third month in row – The Guardian; 18 February 2018)) Just over a quarter of NHS doctors are non-UK nationals, and 37% were trained outside the UK,((Key stats from the medical register – General Medical Council; Report generated 16/07/2018)) generally subsidised by the taxpayers of states with severe health infrastructure shortages. For each health-worker employed by the NHS, a saving is made on the cost of training, while global South states with low densities of health workers lose essential personnel along with the investment made in their training. While freedom of movement is an important human right, one might reasonably ask whether the UK should not be remunerating the nations whose workers it poaches.((Compensation for the brain drain from developing countries – The Lancet; 16 May 2009))
As it stands, the NHS is forced to reproduce a tired and harmful dichotomy: it relies on "good" immigrants to provide free health services to all of us except "bad" immigrants, who must pay for the care that fellow immigrants help to deliver. Migration is universally driven by the promise of improved opportunities in the form of wealth, health, safety, and stability. It is inconsistent and morally troubling to welcome those who are deemed to be useful, and construct a "hostile environment" for those whom it is politically expedient to exclude.
We live in a globalised world, and it is high time we faced up to the responsibilities that entails. We cannot justify continuing to rely on extracting healthcare workers from world regions with severe healthcare shortages, and at the same time refuse to offer NHS services to all who need them, whatever their nationality, whatever their immigration status. Granting all immigrants free access to the NHS is one way of making amends for the appropriation of value which has resulted from the reliance of the NHS on immigrant medical workers to provide our greatest public good. That is not a difficult ask: it would mean reinstating the rightful boundary between the Home Office and the NHS, and leaving health-workers to devote all available resources to treating patients solely on the basis of medical need.
All those who are proud of the moral triumph that is our NHS should now be fighting to ensure its moral consistency.
Topics