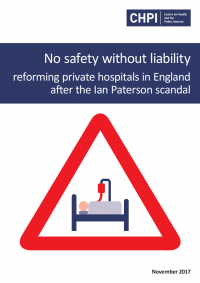 NB: This version of the report has been revised on 29/11/17 to correct some wording that was judged potentially misleading
This report sets out a series of recommendations to reform the private hospital sector in England following the Ian Paterson scandal, which left over 500 hundred women who underwent unnecessary breast surgery in two private hospitals maimed and injured.
As we have shown in two previous reports, there are a number of systemic patient safety risks which are specific to the private hospital sector. The reaction by both the regulator the Care Quality Commission and the private hospital sector to the Ian Paterson scandal highlights the extent to which those risks remain and will continue to do so unless extensive reforms are introduced.
Based on an extensive review of CQC inspection reports of 177 private hospitals in England, this report provides evidence which identifies the characteristics of the private hospital business model which make it susceptible to exploitation by ill-meaning or incompetent surgeons.
The refusal by private hospital companies to accept full responsibility for what happens in their facilities means that patients will always be at risk. Or, put another way, there can be no guarantee of patient safety in private hospitals without full liability.
Further, the regulatory regime which covers private hospitals does nothing to address this central weakness and has in most cases ignored or overlooked the extent to which patients have been put at risk.
The report makes five recommendations to reform the private hospital model in order to make them truly safe for patients and to avoid a repetition of the Ian Paterson case.