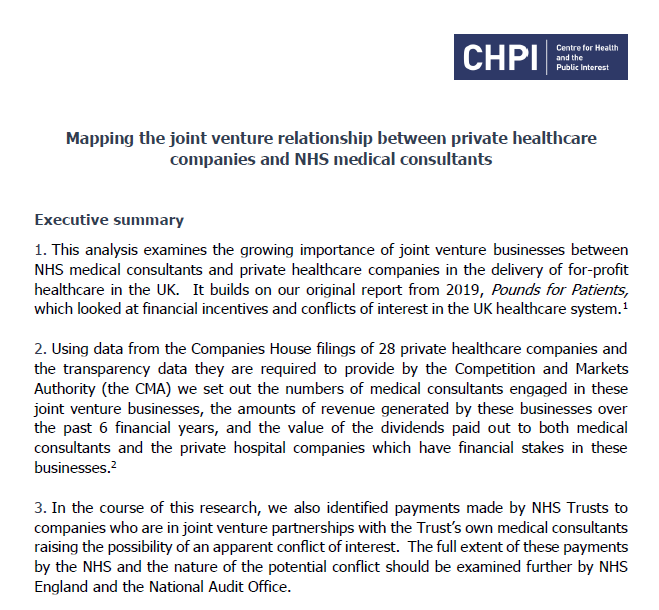 This analysis maps the network of joint venture businesses between NHS medical consultants and private healthcare companies, building on the CHPI's 2019 report 'Pounds for Patients' which looked at financial incentives and conflicts of interest in the UK's private healthcare system.
In the type of joint ventures analysed here, a group of medical consultants own equity stakes in a business joint owned with a healthcare multinational to deliver patient care at facilities where they work at and refer patients to. In addition to the fees earned from treating patients, medical consultants who are  part of joint ventures receive a share of the profits of the company as a dividend, giving them a vested interest in the success of the business.
Whilst there's no suggestion that consultants would put their own financial interests ahead of their patients by virtue of holding shares in a joint venture business, the lack of public understanding, an inadequate regulatory regime and the substantial sums of money involved is a matter of public interest.
Furthermore, as the majority of the doctors with equity in joint ventures are primarily NHS employees, there is a potential conflict of interest when NHS Trusts contract with the companies which are engaged in joint venture businesses with the Trusts own medical consultants.
Key Findings
We identified 481 medical consultants with equity stakes in 34 different joint ventures with private hospital companies. 73% of these medical consultants are employed directly by the NHS.
Over the six-year period covering 2015 to 2020 these 34 joint ventures generated £1.24bn in revenue and recorded an operating profit of £258m.
Over this same period medical consultants with a stake in these joint ventures received an estimated £31.3m because of their equity stakes. The dividends received through these joint ventures are in addition to the income received by these medical consultants in the form of their fees for treating private patients, their salary from the NHS and any advisory fees which they might be paid by the private hospital company.
Of the 481 medical consultants who hold equity in joint ventures, the average size of each stake is 1.65%, generating an average of £11,600 per year. The highest earning medical consultants are estimated to receive £172,000 per year.
The most common specialty of the medical consultants which are engaged in joint ventures with private hospital companies is oncology, with 71 medical consultants listing this as their primary specialty on the GMC register. Orthopedic and general surgeons are the second and third most common, with 35 and 32 medical consultants respectively. Urology, Gastroentorology, Obstetrics & Gynaecology, Cardiology and Neurosurgery make up the remainder of the ten most common specialties.
Between December 2020 and November 2021 NHS Trusts in London made payments for cancer services worth £36.4 million to HCA Healthcare a company which is engaged in joint ventures with 120 medical consultants who work at these NHS Trusts.